Manicures
Classic Manicure
Time: 25 Minutes

A quick pick-me-up for tired hands. Enjoy a hand massage, cuticle treatment, and you choice of color polish.
Spa Manicure
Time: 25 Minutes

More than just a manicure, the spa manicure begins with an invigorating citrus soak for your cuticles, followed by an exfoliation treatment. Ending the manicure, a great massage with Finishing Lotion. Leaves hands smoother, younger looking, and soft.
Shellac & Gel Manicure
Shellac Color: 45 Minutes

Getting nail polish to last for more than a few days is like trying to pull a rabbit from a hat... but not anymore! MEET SHELLAC! Don't polish those nails... SHELLAC them! Get shiny, glossy nails that last for up to 14 days! Say good-bye to nicks, chips & smudges! At the end of your service, your nails will be 100% dry! No worrying about nicking those perfectly polished nails hours later! No more drying time. No chips or cracks days later. No more weak, thin or damaged nails caused by acrylics & drills. Don't wait any longer... see what the buzz is all about.
The Signature Manicure
Time: 50 minutes

As your hands are surrounded by hot steam towels and warm sea stones. Relaxing hand and arm massage and lavender wax treatment will stimulate cell renewal.
Men's Executive Manicure
Time: 25 Minutes

Men's exclusive service. Perfect for the business man who needs to keep his hands nicely manicured. Service includes a hand massage, cuticle treatment, and nails buffed to a natural shine.
Pedicures
Spa Pedicure
Time: 40 Minutes
Pamper your feet first by soaking them in a whirlpool foot bath with Sea Salt. Next, we use exfoliating treatment to remove dead skin. A hydrating masque with spearmint oil is applied. This pampering session ends with yet another foot massage and highly effective callus treatment. French Pedicure add $10
Hot Stone Pedicure
Time: 55 Minutes
You begin with a soothing foot soak to soften skin and relieve stress. Next, your feet are thoroughly exfoliated to remove roughness, dryness, and dead skin. Smooth, warm Baltic sea stones are then massaged into your feet and calves, rubbing out tension in an experience like no other. Finally a silky lotion is applied, leaving you invigorated and ready to walk out into the world again.
The Signature Pedicure
Time: 80 Minutes
The journey begins with a soothing foot soak, an extensive foot and leg exfoliation treatment. Hot steam towels relax and renew the feet and prepare them for the soothing mud masque. Extremities are wrapped and then massaged. Paraffin Wax treatment. Callus and cuticle removal end this pampering treatment.
Couples & Champagne Pedicure
Time: 50 Minutes or 80 Minutes
A luxurious celebration beginning with a lavish foot soak to prepare for a strawberry sugar exfoliation and moisturizing envelopment. The feet are wrapped in warm steamed towels bringing nourishment to the skin. This experience is complemented with a glass of champagne. *Prices include both people
Men's Executive Pedicure
Time: 40 Minutes
Men's exclusive service.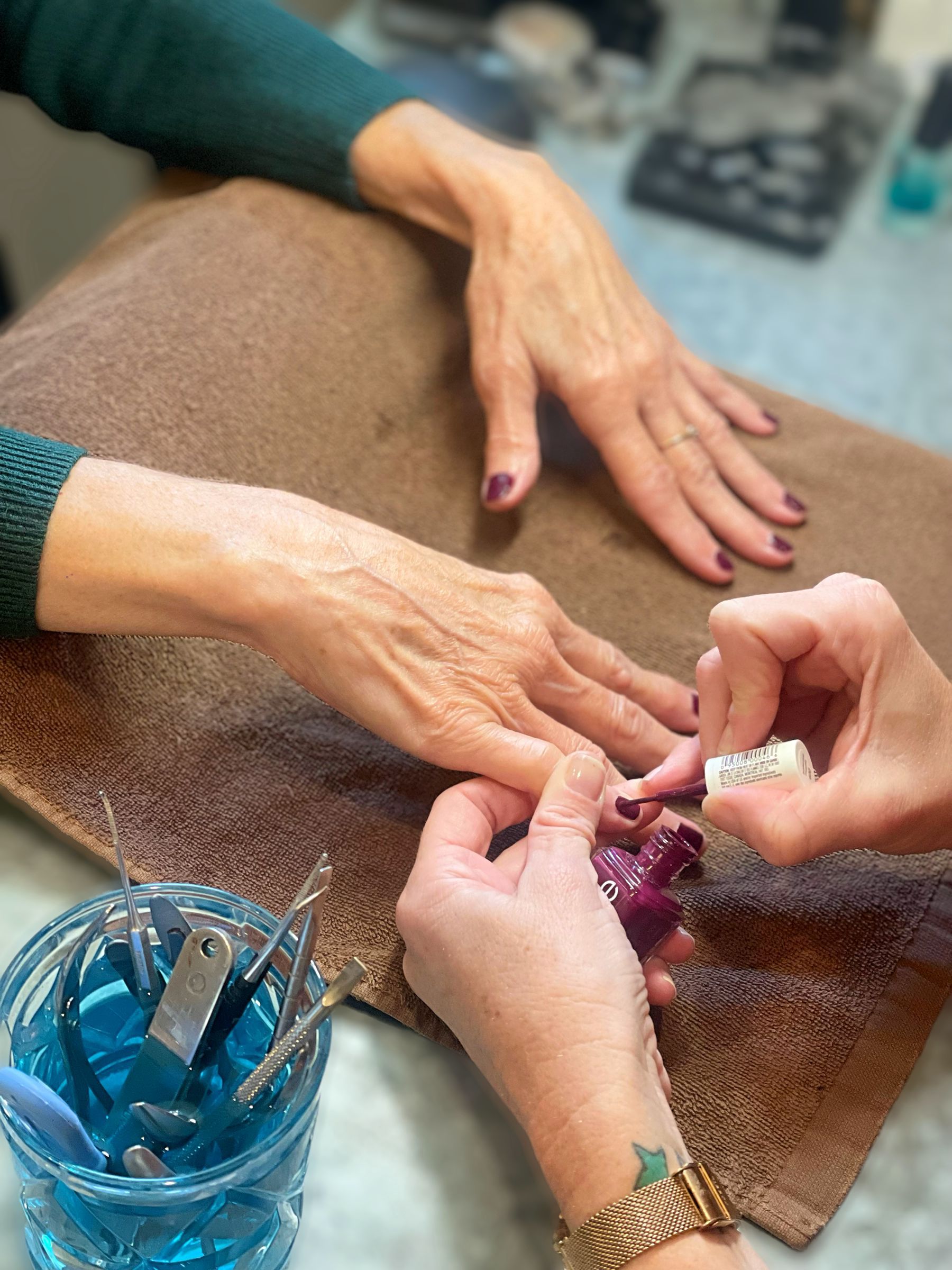 Add-ons for Mani & Pedicure Services